Mobile recording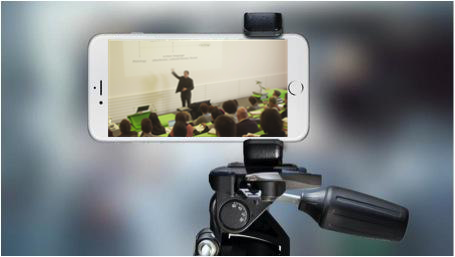 If you do not have a room with fix installed capture agents, you can capture your lecturers in different ways.
Easy recording
Presentation & Audio
The easiest way would be to attach a microphone to your computer and record your presentation as well as your voice on your computer.
See therfore our recommendation for software solutions.
Presentation & Presenter & Audio
You can also record your voice and your presentation with just a camera. We do not recommend a specific video camera since even a normal mobile phone is capable of capture videos. But what we recommend is a good microphone. Please see our recommenation for microphones
More advanced recording
There are lots of capture agents, which can record single or dual videos. Unfortunately the communication to our server is not implemented yet and a automatic upload is not possible. However you can use them and upload the recordings via our web interface.
See our recommendation for hardware equipment
Existing videos
Occassionally you can also receive video files from other sources, eg. as a collection of files from a prerecorded event or via email or cloud service from a distant collaborator. Such files can also be uploaded to the video servers of SWITCH.