Video Tipps

Be well organized. It's easy!
We have prepared a flyer containing different tips for all people who normally are involved in the organization of a successful event, like the speakers, the SWITCHcast team, the persons responsible for the technical part and the organizer of the event itself. If you follow these steps, your recording will not only be of high quality but your audience will also be grateful because the speaker had always eye contact to them and because the slides were enough clear to read. Please consult the flyer in English or German.
How to capture the signal from a video conference / How to attach an analog video camera
Some older video cameras, video tape recorders (VCR) and especially video conferencing devices often provide only analog video output features. You end up with the typical three cinch cables: Yellow for composite video, red and white for stereo audio (in some cases, you may get S-video instead of composite video).
To translate these signals to be compatible with the SWITCHcast recorder, you need a DV converter. We have made good experience with the Canopus ADVC-55: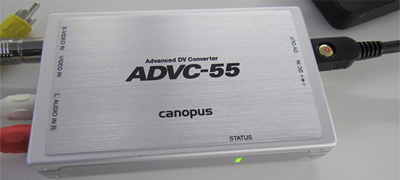 The canopus box allows you to convert both audio and video to at the same time to a muxed DV signal, resulting in perfect synchronicity. Simply connect your analog video device to the ADVC and plug the FireWire cable into your Mac running the Recorder software.
No additional driver is required because the ADVC is recognized as a standard DV camera. You can now choose the ADVC-55 device when you create a new clip using the SWITCHcast Recorder (or any other application btw.).