Download SWITCHcast Recorder
More about the Technical System Requirements for SWITCHcast.
SWITCHcast Recorder 7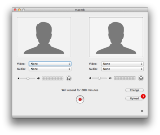 Video and audio data and the lecture slides are recorded locally using the recorder software.
Download SWITCHcast Recorder 7.8 (Release notes)
Please send us any problems you experience to cast-support@switch.ch.
Epiphan Driver
Slides can be captured with the Epiphan frame grabber. You'll need to install an additional driver.
Please download the latest driver from Epiphan.com