About the Authentication and Authorization Infrastructure (AAI)
The objective of the AAI is, in a nutshell, to simplify inter-organizational access to web resources. It is deployed by most Swiss universities. With a single login a student can access e-learning systems at multiple universities, for example. The AAI makes use of a concept called Federated Identity Management.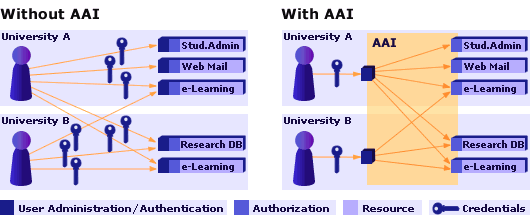 These are the benefits
All parties profit from a standards-based AAI:
Thanks to the 'virtualized' ID, resources can save the effort of registering and administering users based on paperwork.
Because of standardized interfaces, resources can integrate users of other organizations without much effort.
Due to a standardized authentication mechanism, users are granted access to various resources of a number of organizations with a single password, irrespective of location.