January-25-2020
Server Upgrade to Version 10.3.2
The following new features and bug-fixes are available in this version:
1. All standard SWITCHdrive Users will get 100 GB Cloud Storage
With this new SWITCHdrive version all standard users will get a cloud storage (=quota) of 100 GB. Users who already have higher quota may get a quota adjustment to the next 100 GB level. You can check your current quota in the SWITCHdrive Web-Client:

Open your personal settings by clicking the small white triangle (1) in the top right corner. Select the first entry "Settings" from the drop down menu. In the "General" section (2) you will can see a bar (3) indicating your currently used and your total available cloud storage.
2. Support of OAuth2
SWITCHdrive supports OAuth2, a new authorisation mechanism which exchanges secure access tokens between clients and web applications like Moodle, Ilias, OLAT and others. This way data on SWITCHdrive can be accessed by 3rd party applications without exchanging user passwords, which significantly improves access security.
When you login to your SWITCHdrive desktop client with OAuth2 activated, a browser window will pop up. You will be asked for authorisation to access your data. Click on the "Authorize" button to agree with this procedure, then close the browser window.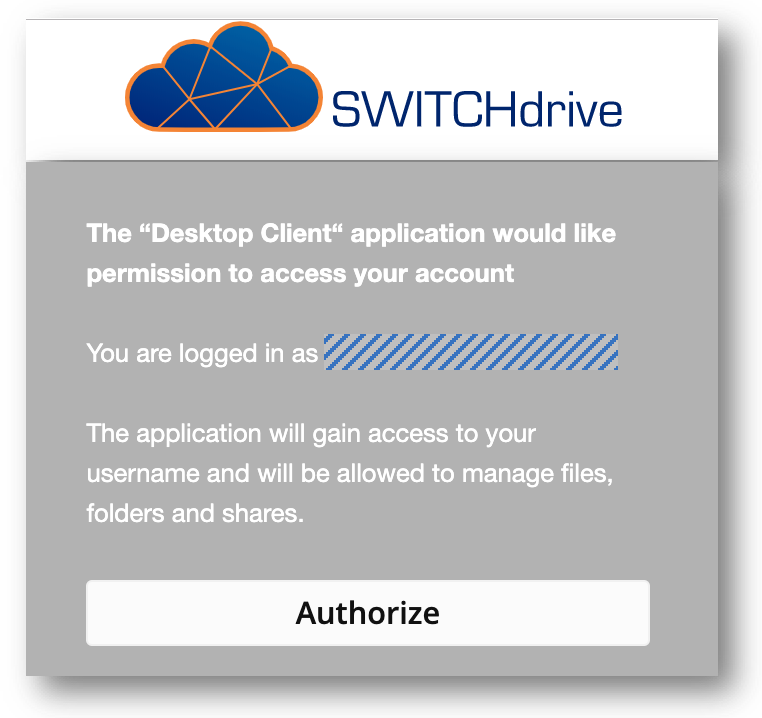 With OAuth2 you can use links to SWITCHdrive files and folders inside your LMS application so when you modify your data, it will immediatly become available also in your LMS application.
3. New Media Viewer / Media Player
A new improved Media Viewer is now available, which replaces both the Video Player app and the Gallery app. The Media Viewer app supports many common image and video formats. Please note that some special image formats may not be supported by your browser.
Clicking on an video or on an image opens the slideshow view which sets the background of the window into a dark gray color. Clicking anywhere in the background will close the media viewer and displays the current folder content.
To play or stop a video click on the play / stop button. Note the red time bar (1) above the control section. You can move it to the left or to the fight to change the playing position of the video. Click the icons in the center of the control section to set the video to Full-Screen (2), or to turn ON/OFF the audio. Clicking the two icons on the right of the control section lets you dwonload the current video or to close the media viewer (3).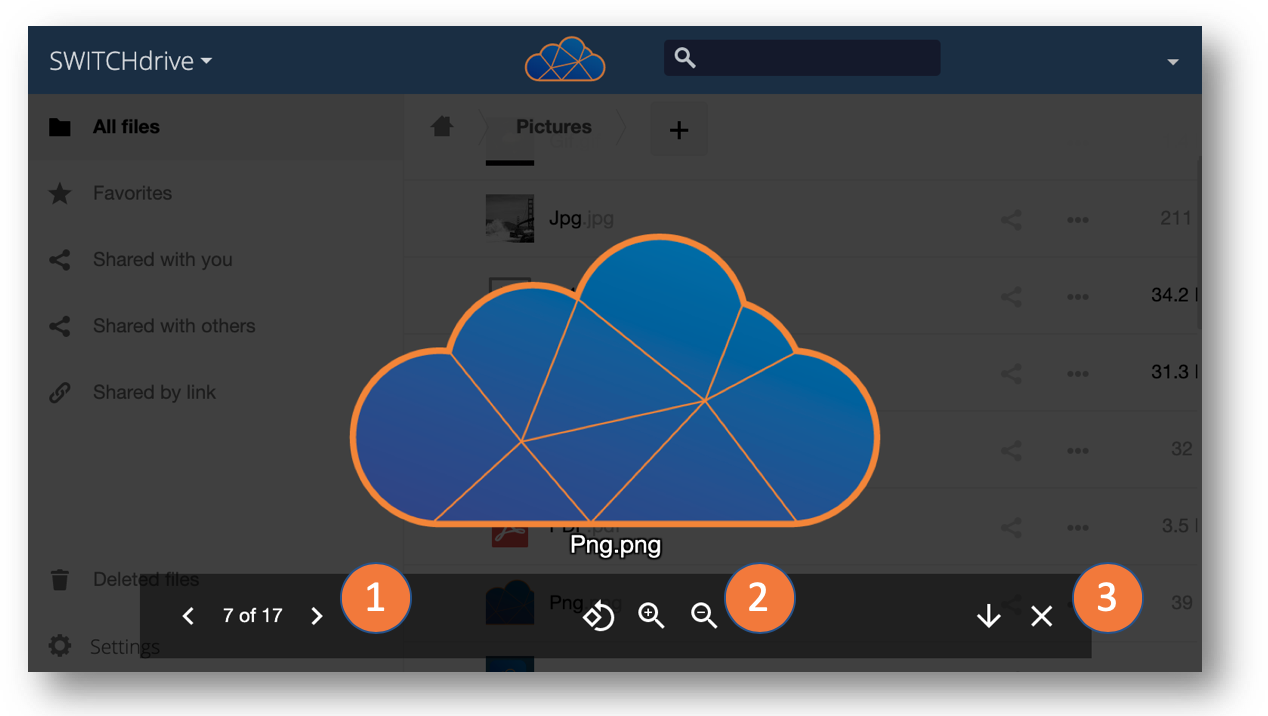 To easily browse through your media files. just click on the the tiny left or right arrow (1) icons (or simply swipe through them). If the displayed media is an image, a rotate icon and two loupe icons are displayed so you can rotate it or zoom in or out of it (2).
The media viewer app is also optimized for mobile support, so you can enjoy to view your images and videos also on mobile devices.
Bug-Fixes:
Versions of Files are available again. Because of a security vulnerability in the previous version of SWITCHdrive, the version-app had to be temporarily blocked.

The web-office tool (OnlyOffice) was updated to the latest version which contains fixes to many known bugs. For a detailed list of new features and bug-fixes, see the changelog of OnlyOffice here.
Known Bugs:
Downloads with the Web-Client creates tar-files which cannot be opened in OSX-Catalina. Use the Sync-Client to create sync-copies of your files in your local harddisk so you don't need to download them.
---
---
August-19-2019
Server Upgrade to Version 10.2.1
The following new features and bug-fixes are available in this version:
1. Notifications about SWITCHdrive events
SWITCHdrive is now sending out emails with a summary of events that happened to your files on SWITCHdrive. You can define in your personal switchdrive settings if you want to receive such emails or not. Scroll down and also define how often you want to receive such emails and if the events to your files should also be added to the Activity stream. Note that you can only see the last 7 days of events in your Activity stream, so if you want to keep a log file about all the changes to your files, keep receiving these notification emails and store / filter them accordingly.

2. New sharing options in your personal SWITCHdrive settings
You can now define if you want to automatically accept all incoming local user shares or not. In previous SWITCHdrive versions this was always the case, but some SWITCHdrive users prefer to get an information first before precious local storage space is used for such shares. You can now also hide your name in the SWITCHdrive address book if you do not want to be found by other SWITCHdrive users.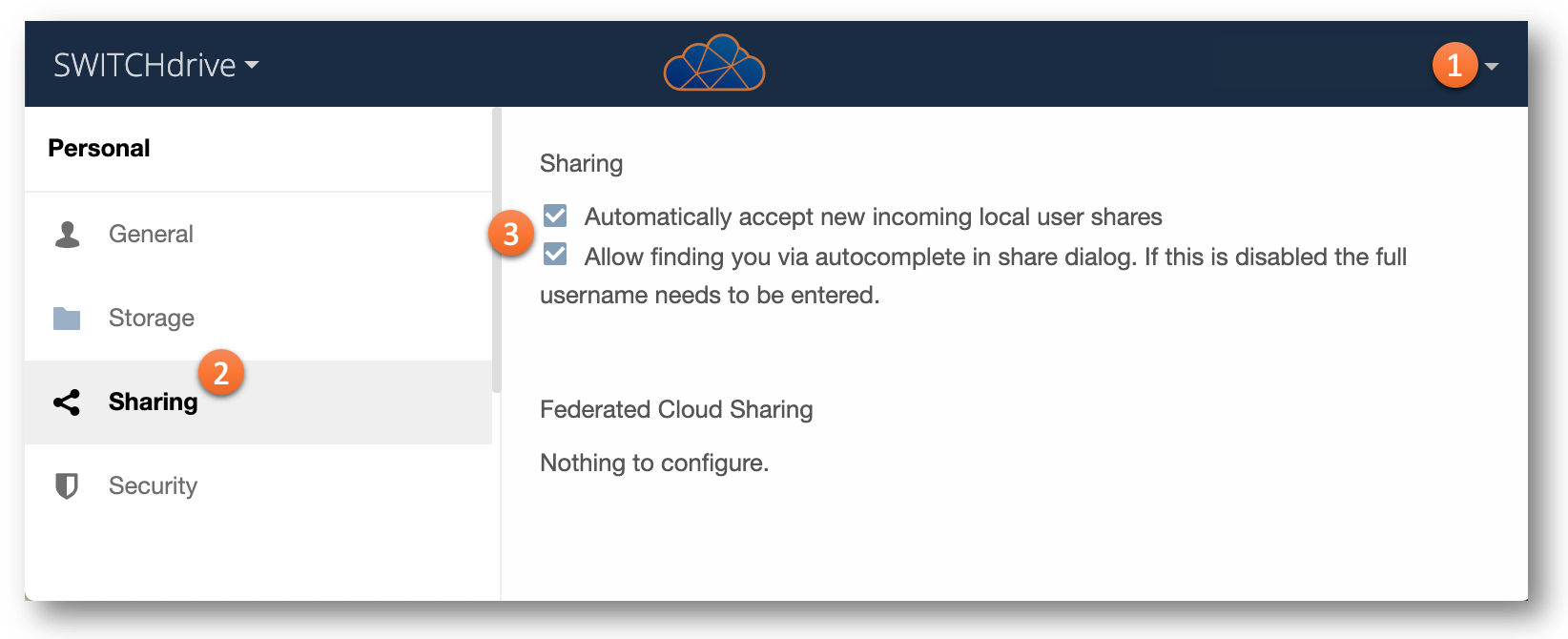 To change these sharing options, open the web-client and go to your personal settings by clicking on the tiny triangle in the top right corner (1). On the left, click the Sharing section (2) and then on the right activate or deactivate the new sharing options (3). We recommend to keep both sharing options activated. Deactivate them only if you have good reasons to do so!
When the first sharing option is NOT activated, you will get a notification whenever a new user share arrives. You can then accept or decline such a user share in the web client or in the desktop client.
In the desktop client, right-click on the small SWITCHdrive icon (

) and select the Settings menu option. Then go to the activity section. Under "Server Activity" (1) you can see who shared something with you and who is the owner of the shared data (2). Accept or decline this incoming share (3). If you decide to decline the share, you can accept it anytime later by selecting the menu option "Shared with you" in the web-client.



In the web client, a small bell with a red dot (

) will be displayed in the top right corner of your browser window. Click on it to open a sharing dialog. Note the name of the switchdrive user who shared the folder wtih you and the name of the user who owns the shared data (2). Then click on one of the two buttons to accept or decline the share.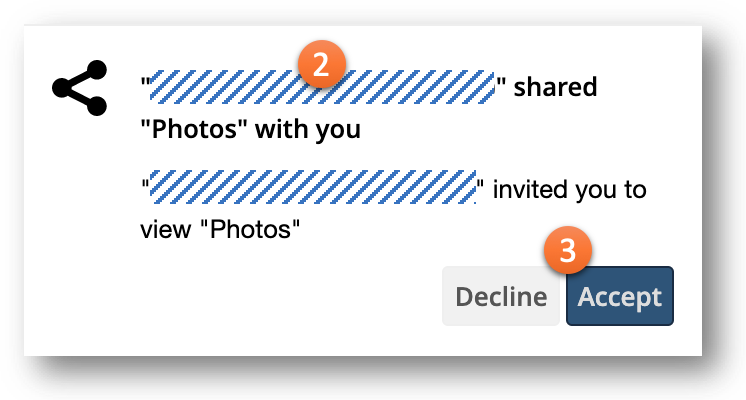 3. New sharing option with public links
In the SWITCHdrive version you can now create a public link with "Download/View/Upload" permission. Users can allow recipients to view, download and add files, but they cannot make any changes to the files (e.g., rename, move or edit files). This new permission can be regarded similar to a public file drop folder, but in contrast to the existing FileDrop option, recipients can also view and download existing data that is stored in the folder.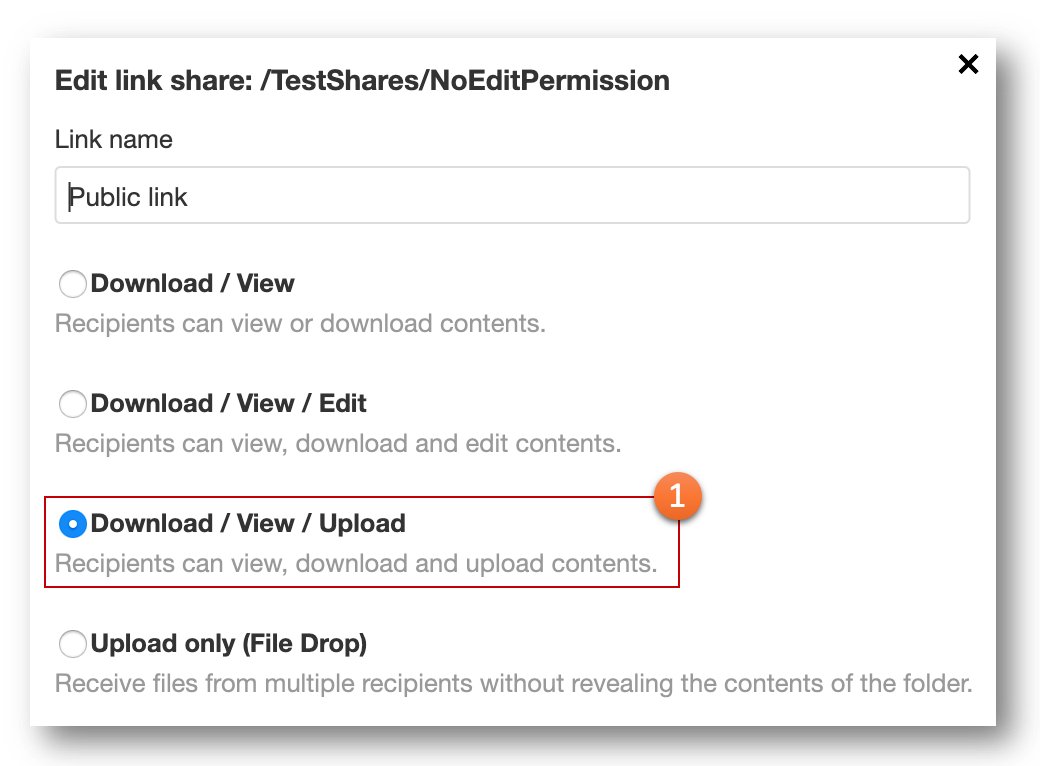 4. New Sharing Options for Office Documents (.docx, .xlsx, .pptx)
When sharing office documents to collaborators you can select now three new permissions. Note that they only appear when you uncheck the "edit" permission. They are mutually exclusive, so you can only apply one of them at the same time:
Select the review permission when you want to allow your colla they can suggest, accept, and reject changes, but can't make normal edits. You can gather their contributions without losing clarity who wrote what. This makes for a great collaboration workflow.
With the form filling permission, you can ask your collaborators to fill out forms, but they can't change anything else in the document. Use the OnlyOffice content controls to create a form or to protect some parts of the document from being edited or deleted.
Select the comment permission when you want your collaborators to only add comments and view the comments created by others. This also works with spreadsheets (.xlsx) and presentations (.pptx)
5. Bug Fixes
The following bugs were fixed in this new version of SWITCHdrive:
The versions of a document are now always displayed correctly in the web client. This was not always the case in previous versions, especially when a folder was shared with others, the owner of a document could not always see the versions (although they were always correctly stored on the SWITCHdrive servers).
---
February-2-2019

Server Upgrade to Version 10.0.10

The following new features and bug-fixes are available in this version:
1. WebOffice (OnlyOffice)
You can now view and edit word, excel and powerpoint documents directly in a web broswer and work collaborativly with other SWITCHdrive users on the same document. See this FAQ section for more details how to use this new feature.
2. Improved Reliability for Uploads Via Web Interface
The reliability of the file upload feature in the SWITCHdrive web interface has been improved. When uploading larger amounts of data on unreliable connections (e.g., on the train or with mobile data) you have to deal with interruptions and timeouts, which in the past required users to restart stalled uploads from the beginning in the worst case. With this new update uploads can now continue from the point they froze when a connection becomes available again.
3. Notifications about SWITCHdrive Activities by email
You can now receive emails about important events. Open your switchdrive settings in a web-browser and go to the General settings. Select if you want to be notified by email about all events, only events that require an action or no events at all (1). To avoid a huge number of such emails, we recommend to activate only few events, for example when a file or folder was deleted or restored (2), and to set the frequency of sending such emails to "Daily" or even to "Weekly" (3).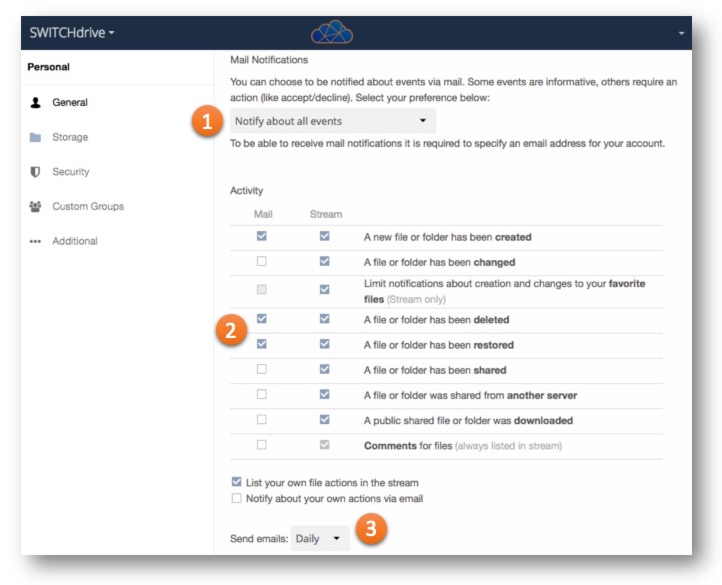 Note:
To see all the Activities in the Stream, open the drop down menu in the top left corner and click on the Activity Icon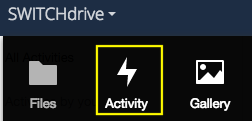 Due to a bug in the previous version of SWITCHdrive, you did not receive any email about your Activities since we introduced the Activity App in late Sept-2018. You may have received an email with a summary of all your activities since the last update, which you can ignore.
Hello SWITCHdrive User,
You are receiving this email because the following things happened at SWITCHdrive
You changed ...
You updated ...
and 12345678 more
4. Bug-Fixes
The following bugs were fixed in this new version of SWITCHdrive:
The orientation of pictures in the gallery app can now changed

PDF documents are now displayed correctly also on mobile devices (eg. in the Documents App of Readdle)
---